Rose Collis is a critically-acclaimed author, playwright, performer, singer, musician, producer and alternative historian who has been based in East Sussex since 1997.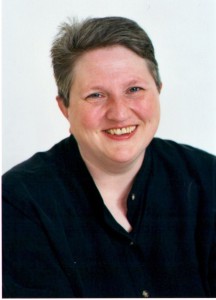 After leaving school, she trained in secretarial and admin skills and worked as a temp while making early forays into fringe music and theatre via the Oval House, in tandem with her burgeoning activism courtesy of the legendary Brixton gay community.
Her theatrical career began in 1979, as performer, singer, songwriter, musician, writer and administrator. By the age of 21, she had produced a 'demo' of some of her self-penned songs; co-founded a theatre group; performed in five European countries and throughout the UK, including the Edinburgh Fringe.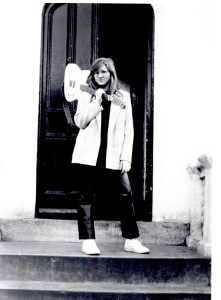 Her 'demo' tape – self-financed and produced – garnered her first professional review:
'Close It Down is a number with all the necessary surges and variations to maintain interest and the lyrics don't rely on the rigid rhythm structure for scanning, being used as another part of the arrangement. A lesson many find it difficult to learn but it makes a helluva difference. Who Fires The Gun? is a lighter, quite bouncy number. A lot of fun and, again, well-constructed.'
Musicians Only
In 1980, she co-founded the feminist musical-comedy troupe, Hardware, for which she wrote and arranged much of its songs and the group became noted for its musical versatility and originality. Hardware performed extensively throughout the UK and Europe, including  the Edinburgh Fringe and a two-month, five-country busking tour, and were featured on Afternoon Plus (Thames TV) during the Women Live Festival 1982.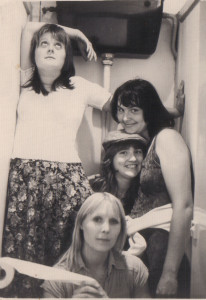 The group's shows were:
'Brass Tacks', devised, written and composed by the company. A cabaret show 'seething with rude, racy, socially-relevant and irreverent renderings, served up with soupçon of satire.'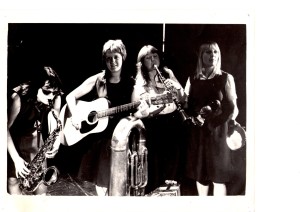 '…sheer good humour…all put over with panache and clever tomfoolery…Rose Collis sings with Brechtian authority.'
The Stage
'…a group which is aware that a protest registers more readily when not ponderously hammered home…sustained by verve and co-ordination…the songs have drive and sensitivity.'

Hampstead and Highgate Express
'…zest and some comic surprises…their musical versatility is impressive…vocally, too, the harmonies of the four are effective.'
Bath & West Evening Chronicle
'Everywoman', devised, written and composed by the company, directred by Edward Dumas. 'A spirited answer to the medieval play of 'Everyman', embracing the diversity and complexity of 'a woman', seen at her four climactic ages.''Never solemn, never didactic, often funny and tuneful, the Hardware Company strike many more blows on behalf of women than a more explicitly ideological approach could possibly manage…'

The Scotsman
'The Hardware Theatre Company have now achieved the difficult feat of combining realistic detail with quick-fire musical revue style.
South London Press
'Hardware being Hardware, there's a lot of brass, woodwind and guitar around…'
The Stage
'Four versatile actresses turned the mirror on women in a witty and perceptive portrait undistorted by either militancy or rancour.'
Middlesbrough Gazette
'And Pigs Might Fly', devised by the company, scripted by Caroline Mylon, music by Rose Collis, directed by Kate Crutchley. 'A musical satire set in a future society where the concepts of work, the media, family and social conventions have had to be redefined.'Nice music, talented group…'              
City Limits
'Hardware perform this futuristic musical farce with great elan…a clever use of music…'
Time Out
'Some excellent music…'
South London Press
After Hardware disbanded in 1982, Rose Collis continued performing until the mid-80s as a solo artist and with other theatre and music groups, including Dovetail Joint, Outcast Theatre (formerly Consenting Adults in Public), and the world's first gay ceilidh group, Pink Rince.
In December 1982, she participated in 'Coming Out Ready or Not', a sell-out 'Secret Policeman's Ball'-style benefit for London Gay Switchboard and Lesbian Line at the Albany Empire, headlined by Tom Robinson – who performed 'War Baby' for the first time at the concert – and featuring Mark Bunyan, Noel Greig and Richard Coles (later of The Communards). The concert was recorded and highlights released as an album on GAYN Records in 1983: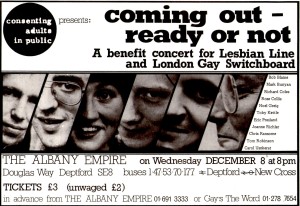 'Rose Collis brought lesbianism to the world of children's song to hilarious and touching effect.'
Capital Gay
'Rose Collis poignantly expresses the bittersweet pain of love.'
Time Out
In April 1985, she took part in the Maupin Marathon, presented by Consenting Adults in Public, a fundraiser for the 'Gay's The Word' Defence Fund. Thirteen actors played over 200 characters in a rehearsed reading of all four of the 'Tales of the City' books by Armistead Maupin. Launched by Chris Smith MP, the reading lasted over 30 hours and was attended by Maupin himself, and Tom Robinson.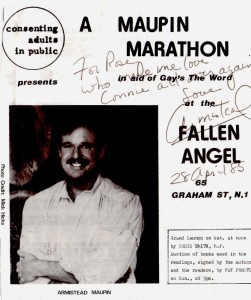 In 1988, Rose Collis performed in the concert version of 'Dorothy's Travels', a contemporary British reworking of The Wizard of Oz, by Eric Presland (book and lyrics) and Dave Harrod (music):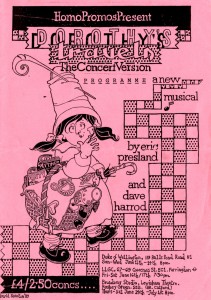 'This excellent new musical… entertaining fun with a message… Throughout this thought-provoking and joyous romp there are some great songs… this highly original and vastly entertaining show…the pure-voiced Rose Collis makes an appealing and spirited Toto.'
Michael Griffiths, Time Out
'One of the best British Musicals in thirty years… "Dorothy" is very special indeed… Rose Collis, Simon Kennett, David Roddis and Fi Craig are all outstanding.'
Phil Eddington, Pink Paper
In 1983, she was one of the team which produced Framed Youth (C4), notable for featuring the first performance by Jimmy Somerville, later of Bronski Beat and The Communards.
It won the prestigious BFI Grierson Award for Best Documentary of 1984: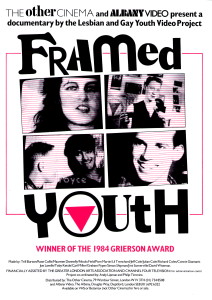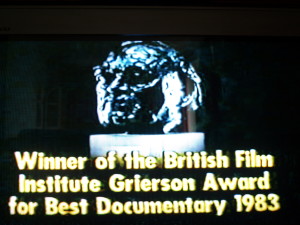 The team collected the award at a star-studded event at the National Film Theatre in 1984, attended by the likes of Sir Richard Attenborough, Alan Bates, Sarah Miles, Robert Bolt and Sandie Shaw. The film was eventually shown by Channel 4 in December 1986.
Watch it here: https://youtu.be/hbovAS5LmoE
'A British teenage Word is Out – heartening, enraging, touching, funny. Warmly recommended.'
Time Out
'…serious, without being martyred, imaginative…excellent to look at and the music's good.'
Times Educational Supplement
'It makes you wonder how the diehard hetero manages to keep going with so much pleasure on the other side of the fence.'
City Limits
'It bears witness to the wit, sensitivity and intelligence of the group…it uses montage technique which brings together images from different sources (television, pop music, films, newsreel, rock videos, vox-pop interviews) that collide with one another.'
Monthly Film Bulletin
'Framed Youth, in its wit, ingenuity, style, method of production and the measure of its final accomplishment sets new standards of excellence in the field of independent special interest video.'
Independent Video
Rose Collis's career in journalism began in 1985, when City Limits appointed her the first lesbian co-editor of the influential 'Out in the City' section,  founded by Brian Kennedy – thus becoming the first non-gay UK publication to have a staff member dedicated to coverage of lesbian politics and culture. Subsequently, Rose wrote for many other sections of the magazine and her features and reviews on a diverse range of subjects – including film, TV, theatre, literature, women's rights, gay rights, UK and international politics – have appeared in over 30 publications on both sides of the Atlantic, including The Mail On Sunday, The Independent, The Times, TV Times, Gay Times, City Limits, Tribune, Spare Rib, Xtra (Canada), Sussex Life, The Bookseller, 3Sixty, one80 and Time Out.
Interview subjects have included Pedro Almodovar, Dame Eileen Atkins, Sandra Bernhard, Melvyn Bragg, Michael Cashman, Neneh Cherry, Lea De Laria, Stephan Elliott, Stephen Fry, Patrick Gale, Frankie Howerd, Derek Jarman, Helena Kennedy QC, Lynda La Plante, Armistead Maupin, Sarah Jane Morris, Mo Mowlam, Joan Nestle, Sinead O'Connor, Tom Robinson, Anita Roddick, Jane Rule, May Sarton, Ian Shaw, Sandie Shaw, Clare Short, Sarah Schulman, Susan Sontag, Emma Thompson, Guinevere Turner and Lois Weaver.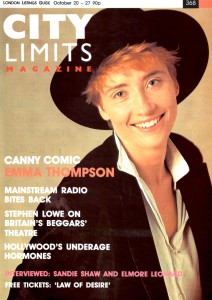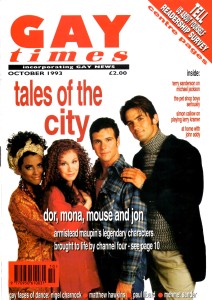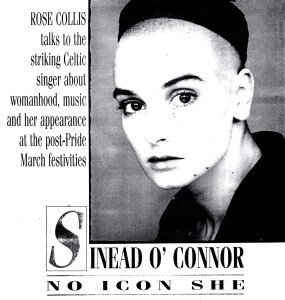 Other work includes writing sleeve notes for albums by Elton John and Dusty Springfield and contributing to the Oxford University New Dictionary of National Biography.
She was the writer and principal researcher for the immensely popular Brighton Boozers exhibition which ran for 12 months at the Brighton Museum & Art Gallery in 2005, and also wrote the accompanying, which became one of the Museum's best-selling titles.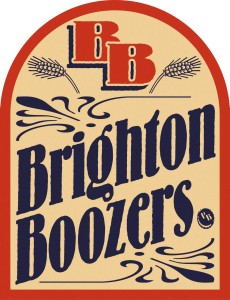 In 2006, she wrote and researched online content for the hugely successful Icons Project,  a national web project on British culture, commissioned by Culture Online. In 2007, she was a major contributor to the online exhibition and website dedicated to the life and works of Joe Orton.
Her diverse range of talks and lectures include sell-out events for the National Theatre, National Film Theatre, Edinburgh Book Festival, Brighton Festival and Fringe Festival, Brighton Museum & Art Gallery, World Book Day, Heritage Open Days, International Women's Day, LGBT History Month, Well-Read Woman (Manchester), York Lesbian Arts Festival, City Books @ The Old Market (Hove), Bishopsgate Institute, University of Brighton, University of North London, Bulmershe College and Charleston.
She has made numerous other TV and radio appearances, including BBC TV South-East, ITV Meridian, Woman's Hour, GLR, Talk Radio's Lorraine Kelly Show and many regional radio programmes.
Books by Rose Collis include Coral Browne: 'This Effing Lady' (Oberon Books 2007); Brighton Boozers (Royal Pavilion, Museums and Libraries 2005); Colonel Barker's Monstrous Regiment: A Tale of Female Husbandry (Virago 2000 & 2001); and A Trouser-Wearing Character: The Life and Times of Nancy Spain (Cassell 1997 & 1999).
Until 2013, Rose Collis devised and led 'Walkie Talkies', her own brand of quirky historical tours in Brighton, featuring original research on a diverse range of subjects including 'Bloomsbury in Brighton', 'Dickens's Brighton', 'Lewis Carroll in Brighton', 'Joe Orton's Brighton', 'Women of the Extra-Mural Cemetery' and the 'Pride Promenade'. One-off bespoke tours are still available for groups and businesses. Email for details.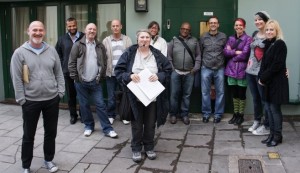 She is a three-time recipient of Society of Authors' awards for biographical research, including the Michael Meyer Award. for her research on 'This Effing Lady'.
Rose has also contributed short stories to the anthologies Necrologue: 3rd Diva Book Of Short Stories (Diva Books 2003), winner of the 2004 Lambda Award for Best Sci-Fi/Mystery Anthology and The Illustrated Brighton Moment (UnMadeUp Editions, May 2008), launched with a sell-out literary cabaret during the 2008 Brighton Festival.
'Established authors including Rose Collis, Cecilia Tan and Ali Smith appear alongside Diva favourites VG Lee and Rosie Lugosi and some completely new blood...well-written and imaginative.'
Ottilie Godfrey, Time Out
'Necrologue is another sensational offering from the Diva sorority, and one that will have you thinking, questioning and redefining the parameters between life and death. Bloody fantastic.'
The Gay Read.com
'Proof of Identity by Rose Collis is a jigsaw puzzle, but there's no illustrated box to show you what you should end up with. There's some wicked humour.'
Vince Laws, G-Scene
Rose Collis is a member of Equity and the Society of Authors.
She is represented by the Annette Green Authors' Agency. For all enquiries regarding subsidiary book rights, contact David Smith, david@annettegreenagency.co.uk
---