When Nancy Spain died in a plane crash in 1964, aged 47, with her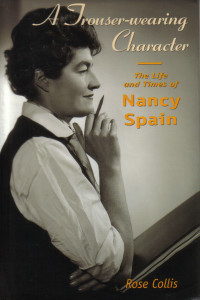 partner, Joan Werner Laurie – the founding editor of She magazine – she was at the height of a brilliant media career that began as a cub sports reporter in her hometown of Newcastle in the 1930s.
The most famous female all-media celebrity of the time, the Roedean-educated great-niece of Mrs Isabella Beeton was a seasoned journalist and author – with over 10 camp and frothy crime novels to her name, as well as biographies, children's fiction and the best-selling Nancy Spain Colour Cook Book.
The self-dubbed 'trouser-wearing character' was equally popular in radio and TV, quickly becoming an established panellist on My Word (with Frank Muir and Denis Norden), Juke Box Jury and What's My Line? as well as regular lively contributor to Woman's Hour.
Her famous friends included Noel Coward, Tony Warren, Alan 'Fluff" Freeman, David Jacobs, Lord Beaverbrook and Hermoine Gingold; her lovers, Marlene Dietrich, Ginette Spanier and Lena Horne. She was sued by Evelyn Waugh, impersonated by Peter Sellers and 'engaged' to her great friend, Gilbert Harding, the most famous man on British television in the 1950s.
In this revealing biography, Rose Collis rediscovers Nancy Spain's public and private life and therein creates an account of an exceptional woman – and the shocking (and ultimately tragic) secret she kept from her public, even after her untimely death.
Interviewees include Tony Warren (who also contribute the Foreword), Michael Foot, Denis Norden, Christina Foyle, Roger Storey (Gilbert Harding's private secretary), David Jacobs, Alan 'Fluff' Freeman and Sandy Wilson.
Nancy Spain is featured in Rose Collis's acclaimed one-woman show, Trouser-Wearing Characters
'There are some people that go in and out of your life, and some you lose early, but she's the one person that I still miss and it's hard to define why. You are conscious that the same people come round again – but she hasn't. There hasn't been a replication of her.'      
                                                                                                                                                                                         Denis Norden, 1995
'It is cruel that all that gaiety, intelligence and vitality should be snuffed out when so many bores and horrors are left living.'
                                                                                                                                                                                                            Noel Coward, 1964
PRAISE FOR A TROUSER-WEARING CHARACTER:
'Rose Collis presents us with a character so warm and barmy and vivid that she bounces off the pages and into your heart…'

Val Hennessey, Daily Mail

'Delightfully readable, with an unusually vivid sense of the recent past and its personalities, she is a young biographer to watch.'  Jonathan Cecil, The Spectator

'Collis on Spain is scatty, readable and fun…'

Lynn Barber, Daily Telegraph

'A vigorous, warm, fluent biography of a vigorous, warm, fluent woman.'

Francis King, Literary Review

'Rose Collis has written a most conscientious biography of…the real first lady of Fleet Street'

Anthony Howard, Sunday Times

'Collis traces Spain's life and career with diligence and good humour.'

Peter Parker, The Independent


'…a labour of love and a mistresspiece of detective work.'

Patrick Gale, Gay Times

'…excellent and long overdue biography.'

Christie Hickman, Midweek

'Spain's life is laid bare in fine prose in this sensitive biography…an absolute must for your bookshelf.'

Diva

One of the 'Books of the Year' 1997, chosen by Shena McKay, The Independent, and Jonathan Cecil, The Spectator