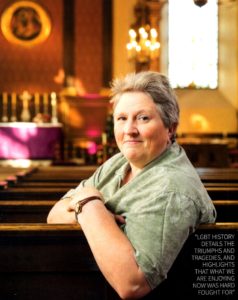 Rose Collis has initiated and participated in a diverse variety of public engagement events – everything from presentations at national and local art galleries and museums, to conferences and launches, with many linked to her stage and literary work.
This section features selected highlights from the last 15 years.
'She's something of a human encyclopaedia, Rose Collis…as curious as a child, a trait that's led to her writing books on a wide range of esoteric subjects. Collis is a character in herself; in the future, surely someone will be singing a song about her.'

Nione Meakin, The Argus

'She has a love for her craft and is able to communicate that to anyone wanting to listen or read.'                           G-Scene
In February 2018, Rose Collis appeared alongside Mark Bunyan and Kinny Gardner in Mark Bunyan and Friends – a monthly event featuring the UK's first openly gay cabaret artist sharing his iconic material at the Toulouse Lautrec Jazz Club, London, joined onstage by a host of talent. Rose and Mark have known each other for nearly 40 years, and she sang two of her favourite Bunyan compositions, Do Yourself In and Agatha  – the latter can be seen (from a distance) and heard here: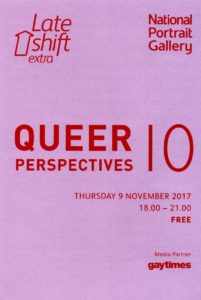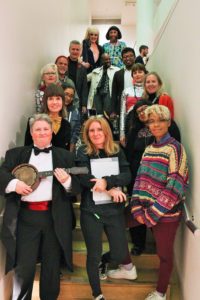 In November 2017, Queer Perspectives, the National Portrait Gallery's innovative and inclusive quarterly event hosted by artist and curator Sadie Lee, turned ten. Rose Collis was delighted to have been invited back  to give two special performances to celebrate the prestigious anniversary. Rose treated packed audiences to some Brief Encounters, performing songs and stories inspired by famous queer sitters in the Collection . Other featured artists included David McAlmont and Bird la Bird.
In February 2017, Rose Collis presented a popular illustrated talk at the V&A about Clemence Dane: The Invisible Woman of British 20th century culture: a prolific and popular writer and artist, described by her great friend Noel Coward as 'a wonderful unique mixture of artist, writer, games mistress, poet and egomaniac.' Rose has been researching the life and work of Clemence Dane for a decade, in preparation for a full-length biography and this remarkable woman is the subject of her new Arts Council-funded solo play, Wanting the Moon.
In August 2015, Rose Collis became the first Writer-in-Residence to be working at Coleridge Cottage in over one hundred years of National Trust care, as part of the Writing Places project.
Stephen Hayes, National Trust Property Administrator, who along with the staff and volunteers at Coleridge Cottage, chose Rose for the role, said, 'Rose brings a wealth of experience and knowledge as a writer, performer and alternative historian. Her work covers many genres, including theatre, biography, journalism, short-fiction and radio. Rose and guest writers will be organising events, masterclasses, workshops and talks at Coleridge Cottage, many of them offered free of charge, which will bring the stories of Coleridge's time in the West Country, including spies, addiction and revolutionary poetry into the spotlight to a much wider audience.'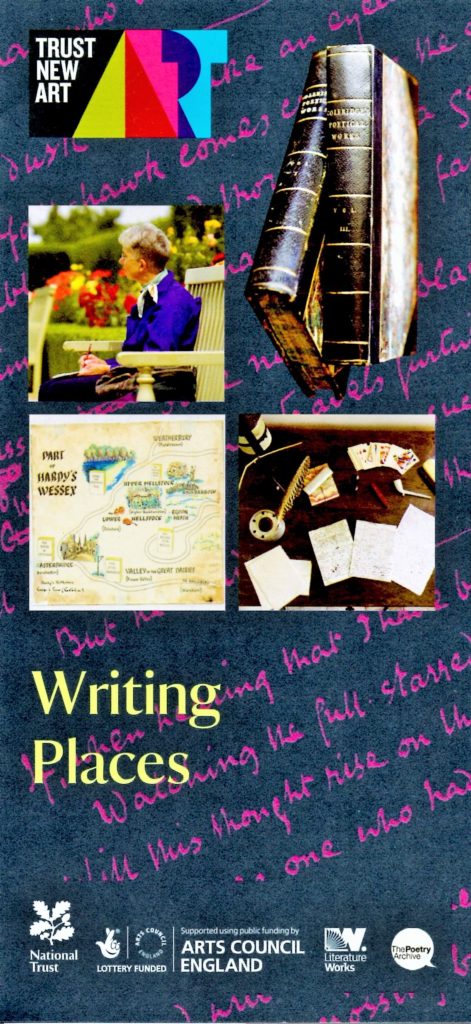 Rose delivered a programme of popular public engagement events:
Speaking Objects: A creative writing workshop which encouraged participants to unleash their imagination on some of the deceptively simple household and personal items and ephemera on display throughout Coleridge Cottage. What part did objects such as a fireplace, a hat, a laudanum bottle or a skillet play in inspiring major works of the Romantic movement? What was their history, and what can they tell us?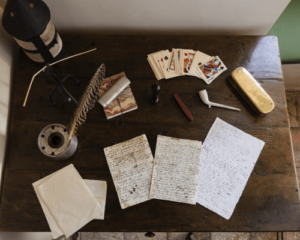 Domestic Dramas: Readings of Rose's specially-devised dramatisations about some of the domestic tensions involving Samuel and his wife Sara Coleridge, and William and Dorothy Wordsworth, adapted from journals, letters and texts by the prolific writer, May Byron.
Twilight Tales: On Halloween Night, visitors gathered by candlelight by Coleridge's fireplace with Rose Collis and other readers to enjoy extracts from Gothic works influenced by Romantic writers, including Frankenstein by Mary Shelley and The Vampyre by John Polidori, plus some of Coleridge's own darker moments.
Coleridge's Adventures in Arcadia: An informal stroll around the garden with stories about Coleridge's idyllic plans for self-sufficiency and the role the garden played in his work life.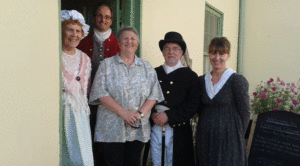 Welcome to Your Pleasure Dome: Visitors could write a short account of what their version of Kubla Khan's 'Xanadu' would be like. Would it be as grandiose as the palace that Coleridge dreamed of (before the untimely interruption by the equally legendary 'person from Porlock), and the 'Xanadu' created by Charles Foster Kane in Citizen Kane. Or would it be something simpler and more personal?
Rose's blog about her time as Coleridge Cottage Writer-in-Residence can be read here: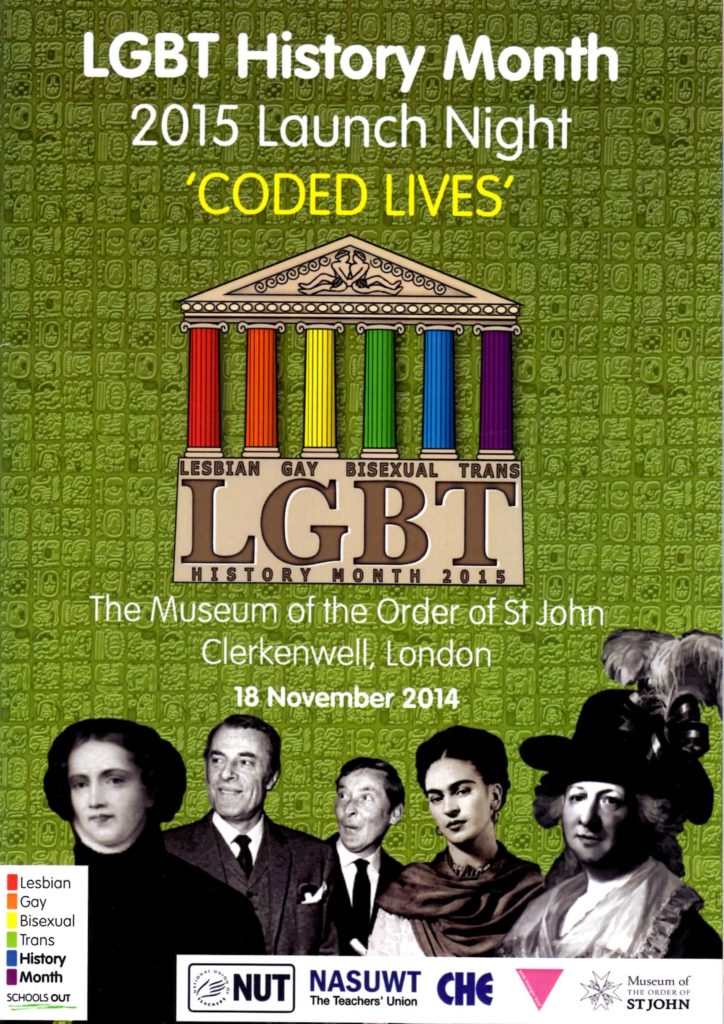 Rose Collis compered and performed at LGBT History Month 2015 – The Launch. Speakers included Sadie Lee,  Clare Barlow from The Tate Museum, Jan Bridget and Jez Dolan from Polari Mission, plus performances from Diversity Choir, and Champagne Charlie.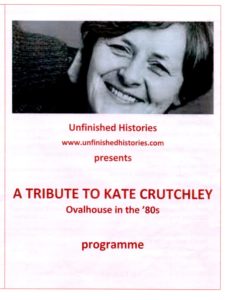 From the Unfinished Histories website: 'Our second Oval House event was a tribute evening celebrating the life and work of Kate Crutchley, Oval House programmer 1981-91 (dubbed 'Kate's Great' by those participating). Around 40 people contributed to the creation of this event which gave an overview of her life and career, focusing especially on her Oval House years. Many companies, groups and individuals lined up to pay tribute including: Karen Parker and Debby Klein (formerly Parker and Klein), Eve Polycarpou and Martha Lewis (Eve and Martha formerly known as Donna and Kebab), Stella Duffy, Sandra Freeman, Sarah McNair, Nicole Freni, Crin Claxton, Rose Collis, Susan (Clark) Hayes, Caroline Mylon, Clare Summerskill, Hot Doris Band, Sue Frumin, Adele Salem, Steve Gooch and Alwynne Taylor. At four hours long it never palled but did full justice to Kate and her legacy. The evening was rounded off with a speech from her partner Claire Oberman.'
Queer Perspectives at the National Portrait Gallery, November 2014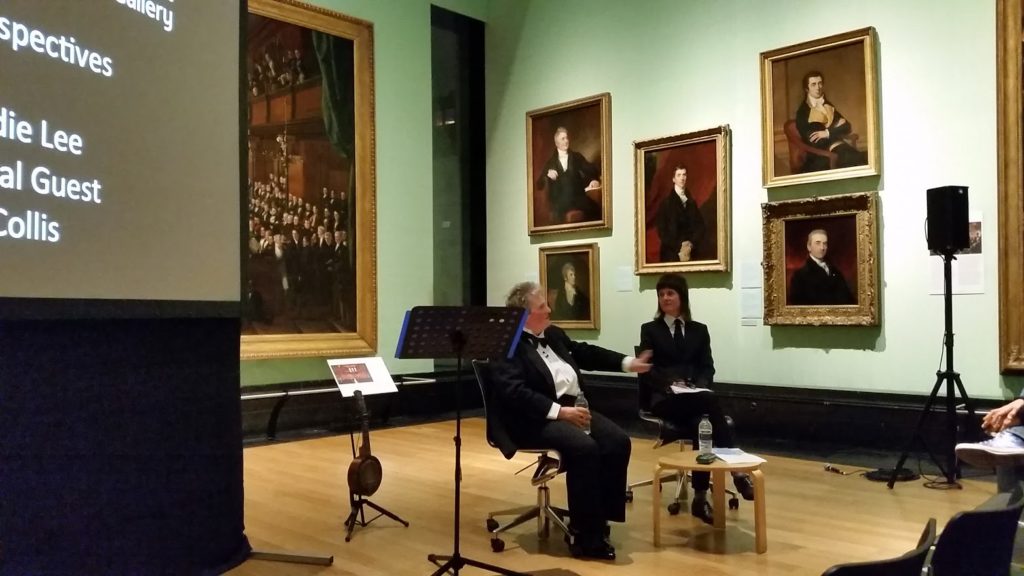 'Last Thursday's social event was a trip to hear Rose Collis discussing with Sadie Lee a number of LGBT icons in the Gallery's collection, including Noel Coward, Nancy Spain, Gilbert Harding and – most surprising of all – Clemence Dane who most in the audience had not heard of. An excellent evening with solid research, entertainment and even singing from Rose.' University of Westminster LGBT Staff Network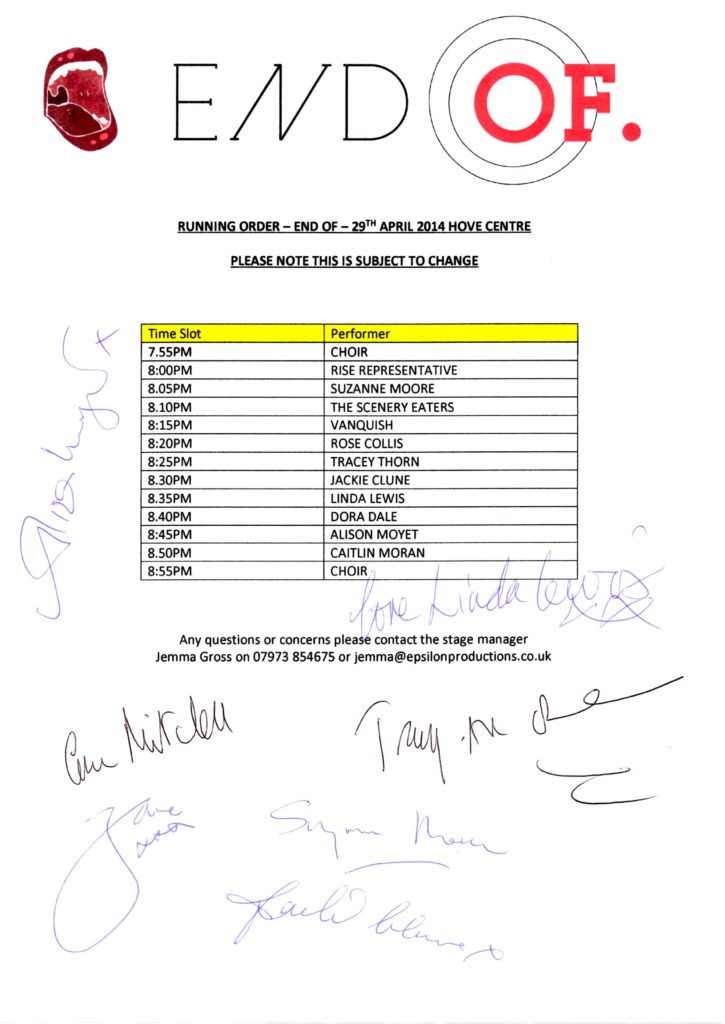 'In support of Rise Brighton – a domestic abuse charity that offers advice, resettlement and therapy – End Of was a night that balanced the serious and the silly perfectly. Despite appearing a happy, fun night with high heels and white wine in abundance, there was an undercurrent of understanding for the hard work the charity does.
The chilling ensemble performance by Julie Graham, Ann Mitchell, Tracy-Ann Oberman, Zawe Ashton and Sarah Solemani saw them reading pieces inspired by the real-life plight of one of the audience members, who had been helped by Rise, and the stunned silence lent gravity to the evening.
Other readings by Caitlin Moran, Suzanne Moore and Tracey Thorn ranged from the passionate to the very, very witty, and were interspersed with musical interludes. From pop band Vanquish to Rose Collis, to leopard-print legend Linda Lewis's rendition of her 1970s hit Rock-A-Doodle-Do, all genres were covered. The show was closed by Alison Moyet singing Don't Go among other greatest hits, before the tables were cleared back for a disco.
There's barely any need to point out that all the performers were female, just that they were all brilliant, and united for a very worthy cause.'
The Argus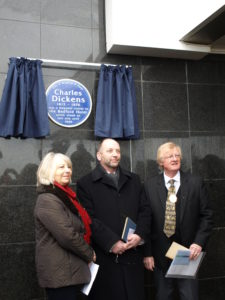 What The Dickens? — Rose Collis wrote and co-performed a semi-dramatised presentation about Charles Dickens and Brighton, as part of the CMP Festival 2012 and at the Blue Plaque unveiling, attended by Ian Dickens, at the Holiday Inn, former site of the Bedford Hotel, where Dickens stayed during his many visits to Brighton.
'Good literary events expand our horizons and encourage us to pick up books and read authors we have never considered before. That's exactly what happened to me at the Clifton Montpelier Powis Festival on Saturday (7 July). Writer, alternative historian and Brighton resident Rose Collis presented a fascinating performance about Charles Dickens and his many connections to Brighton and Hove. With the help of two actors, her entertaining and semi-dramatised show What the Dickens? related snippets of the great author's many visits to the seaside resort in the mid-1800s.'
Brighton and Hove Free Press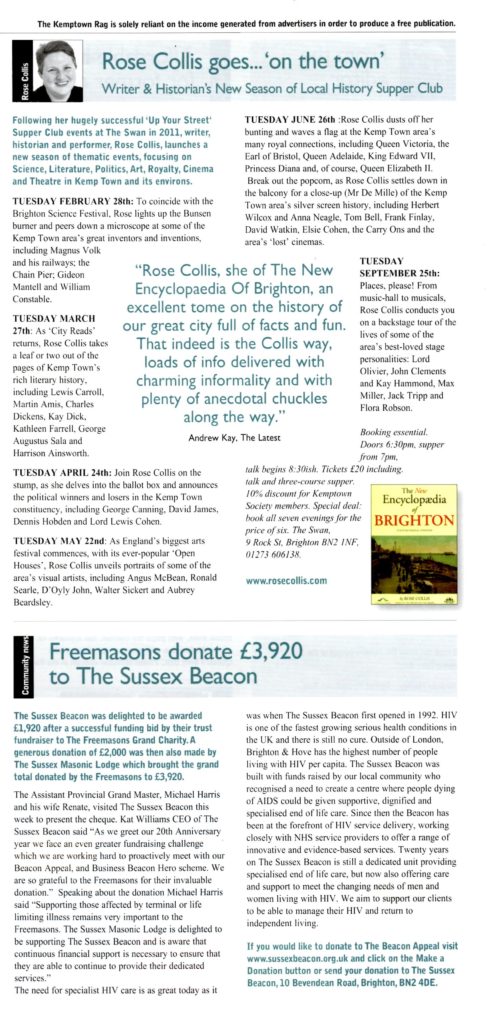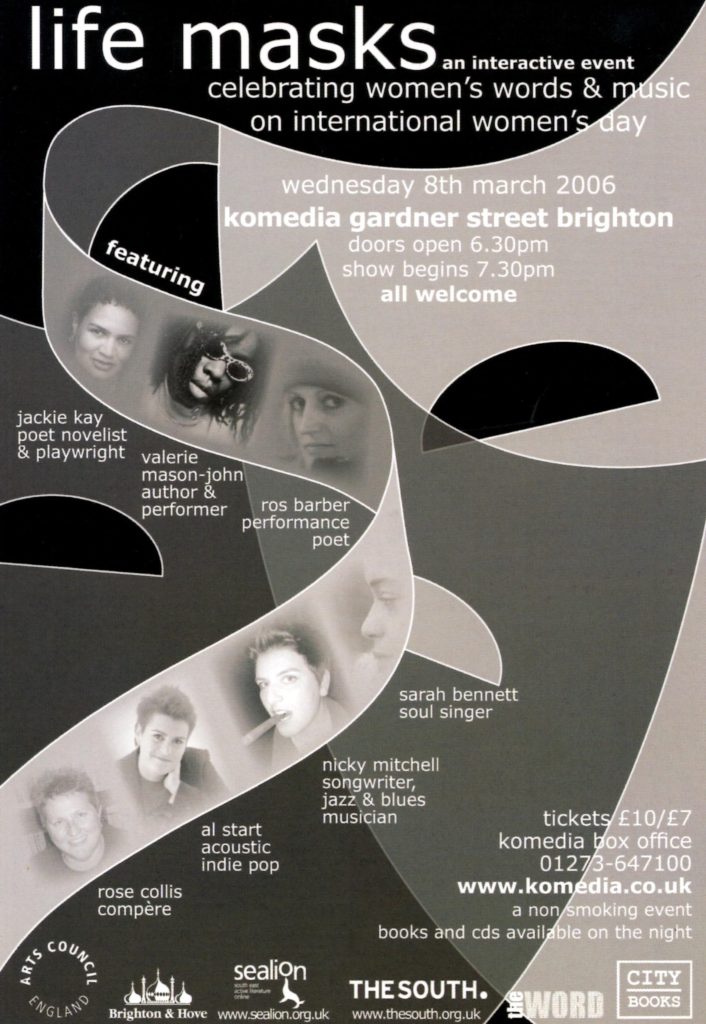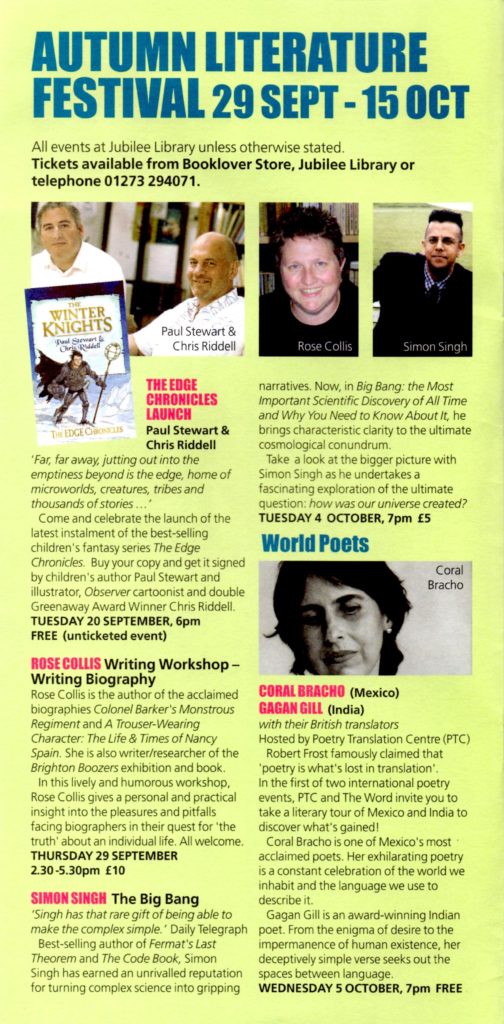 'If you hear of a workshop near you that is run by Rose, then I recommend that you book early and go, you won't regret it. In the meantime, you can always dip into her books; like Rose herself, they sound absolutely fascinating.'

Laura Wilkinson, hagsharlotsandheroines.com

'She talked movingly about her subjects as well as about the process of biographical writing. A very enjoyable session and an author to look out for.'

Chartered Institute of Library and Information Professionals