The Voyage So Far…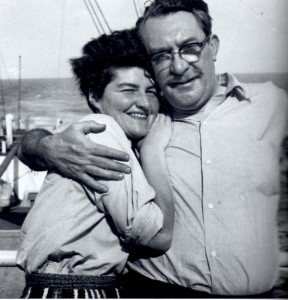 Some 60 years ago, Nancy Spain and Gilbert Harding, two of the most famous personalities in British television and radio of that era, unwittingly found themselves at the centre of a celebrity gossip story which had the tabloids vying with each other in a feeding frenzy more befitting of contemporary media. And the names of Nancy Spain and Gilbert Harding became inextricably linked.
Having written A Trouser-Wearing Character, the first, and only, biography of Nancy Spain, (published in 1997), I had long believed the unlikely yet genuine friendship with Harding – including the long-running and hilarious rumours that they might marry − was a subject worthy of dramatisation, either for the stage or television. In the years since I wrote the book, there had been first a stage play and then a radio play about Harding, but with Nancy only making a cameo appearance in both. I was also surprised that BBC4 hadn't seized the opportunity to make a drama about either of them, as it had for the likes of Kenneth Williams, Hattie Jacques, Hughie Green, et al.
I felt that a central story focusing on the contrasting aspects of the two famous friends was ideal for such a purpose: Gilbert Harding was a guilt-ridden and unhappy gay man who loathed his fame. Nancy Spain was at ease with her sexuality and her celebrity status. And yet they cared deeply for each other, despite their differences. Both were kind, generous, witty, impressively literate — and refreshingly frank. Dubbed 'The Rudest Man on Television', Harding's friend Brian Masters, said he was 'the one person whom everybody in the country knew… truly the first ever Television Personality, a man celebrated for being himself.'
But the irony was that these two famous public figures, known for their unflinching outspokenness, privately both harboured a whopping great secret that could have destroyed their careers overnight. And so in 1954, when they were in the middle of the Atlantic, Jamaica-bound, they found themselves bombarded with telegrams from Fleet Street reporters who believed the 'trouser-wearing N.Spain' and the 'irascible bachelor' would be entering into distinctly unholy matrimony, they had to tread a careful line between truth and deceit — lest the 'steady ship' in which their reputations sailed capsized and sank with all hands.
As is often the way, it was two anniversaries that re-ignited my longstanding desire to explore and celebrate the friendship between these two extraordinary personalities of their time: firstly, 50 years since the sudden death of Nancy Spain in a plane crash and second, 60 years since the 'Harding to Wed Spain?' story had the tabloid journalists all of a flutter. Thus, the play would take as its starting point the boat journey to Jamaica, but explore other themes: the nature of celebrity ­— how it's changed and how it hasn't; the risks faced by famous gay personalities in those pre-liberation days — especially men, who faced ruin and imprisonment if their sexuality became known to the public; and how the truth could be hidden 'in plain sight', if you were part of 'The Establishment'. And, most importantly, it would be an all-too-rare portrayal and celebration of the friendship between a gay man and a gay woman.
I decided that a one-act, two-hander for the stage would be the best format for this particular story, not only dramatically, but also for possible future budget purposes. And so, in April 2014, I started the long and painstaking process of applying for what is called 'Research and Development' funding from Arts Council England. Just to put this in context: I've worked in the arts, in one form or another, since 1979 and had never been the recipient of public funding. However, I decided that, given my proven track record of quality work stretching back over several decades, it was time to change this unfunded culture.
To this end, and to fulfil essential ACE criteria for funding, I set out to work with high-quality artistic collaborators at all stages of the project, from the first draft, up to and including two 'script in hand' performances — one in Brighton, one in London. Venue managers and producers would be invited to attend these, with the aims of securing full production for the play, as well as fostering new artistic and professional partnerships and garnering feedback and support. It was also – and still is − my hope that, with this play, older audiences will relish revisiting their memories of the defiant duo, while a younger generation will enjoy learning about two pioneering personalities who were as complex as they were celebrated, from an era when, unlike our present age, 'celebrity' was a little-used term bestowed on the few who were truly worthy of the title.
Over the next few months, I was fortunate enough to garner and confirm the participation and support of:
Director/performer Kinny Gardner
Writer Shelley Silas
Performers Keith Drinkel and Thea Bennett
Pink Fringe/Marlborough Theatre Brighton hosted the read-through, workshop, rehearsals and first performance, plus provide production support and 'funding in kind' e.g. donation of free rehearsal space.
Bread and Roses Theatre (London) to host and promote the London show.
LGBT members of Worthing/Adur-based Blueprint 22, which facilitates opportunities for socially-excluded young people, who would attend a rehearsal, attend and film the Brighton show and give feedback
However, the first step in securing ACE funding is to find that all-important match-funding for a project (a minimum 10% of the total budget). To this end, I applied to the Peggy Ramsay Foundation: Peggy Ramsay was one of the best-known play agents in the world. When she died in 1991, her estate was left for charitable purposes to help writers, and writing for the stage, and The Peggy Ramsay Foundation was established in pursuance of this object. On the basis of my proven professional track record in writing and performing my one-woman show, Trouser-Wearing Characters, I was thrilled and proud to be awarded a grant of £3,000 towards the play then known as A Fine Romance, but which I re-named to Not Wanted On Voyage.
With this match-funding, and with my collaborators in place, I was able to apply for research and development funding for the project. It took two attempts – as I subsequently discovered, this is quite normal when you are a new applicant. Finally, Not Wanted on Voyage got the funding green light in early November and work began, as scheduled in mid-November 2014, with a completion date of late February 2015. Some people have expressed surprise that I set myself what, to them, appeared to be a short deadline – but that is how I work best: to a structured timetable, set to a fixed deadline. I am not a writer or performer who produces their best if given an indeterminate period of time and a vague deadline for new work. This is probably a welcome legacy from my earliest days in theatre, when we had three weeks in which to devise, write and rehearse a new show (including songs) and then my subsequent career in weekly journalism. I'm never happier than when I'm working to that deadline goal.
Re-researching and revisiting their lives as part of the process of translating the essence of these two extraordinary personalities into stage material gave me an invaluable opportunity to reassess and further appreciate the impact they had on popular culture and, most importantly, several generations of lesbian and gay people who lived 'in the shadows'. Having decided very early on what the setting for the play and it opening would be, I then spent time identifying the main themes, stories and facts that I wanted and needed to incorporate into the script, being aware that there was only a finite amount of backstory and factual 'narration' that audiences would be able to digest in a 75 minute play. I also was mindful of that need to keep a balance between the two characters, ensuring that one did not overshadow or dominate the other. Having done this, I started to imagine them together on the boat, and what they would say, and how they would interact with each other. As I started to 'channel' them, so to speak, I realised that they were both more complex than the public might have imagined – and how damn funny they would have been in each other's company. Thus, they emerged: witty, literate, sharp, contrasting and, in their different ways, complete and utter show-offs.
Working with brilliant script advisor (or dramaturg – ugly word) Shelley Silas from first to final draft was an exciting, funny, revelatory and hugely beneficial process. Our feedback sessions discussed the play's shape; its strengths and weaknesses; where it needed more variation; where judicious edits needed to be made and where additional dialogue could be incorporated. This included two highly congruous and pertinent scenes, involving a fake 'marriage ceremony' and a fake 'chat show'. We also identified a recurring 'island' metaphor that again was entirely congruent with the setting of two people at sea on their way to Jamaica.
After completing a third draft of the script, I gathered cast, director and script advisor together at the Marlborough Theatre for a 'first-sight' read-through – that bizarre moment of revelation when the dialogue that has travelled from your imagination onto the page is interpreted by others who have no idea what to expect. Initial responses were extremely encouraging – except for one small problem: the play weighed in at two hours, 15 minutes – an entire hour longer than intended or required.
At that point, there was only just over a week before we started our five-day rehearsal period, so there was still yet more work for me to do. I could spin you a line about how difficult and painful it was to edit down my script, and lose some funnies, and some juicy gossipy anecdotes. But, truth to tell, I'm a lifelong proponent of 'less is more' and I actually relished the challenge of having to tell the same story, but in an hour less and just as well – if not better – than if the play were to become a two-act work (additionally, on the first day of rehearsal, I discovered it was still 15 minutes too long, so made some judicious edits that evening).
Having been a professional writer for nearly 30 years now, I don't tend to get too precious about something that is, after all is said and done, a job of work, and don't have much patience with those that do. And, in my experience, no work you do is ever wasted: after all, I still have all five versions of my script, with all those moments that had to go in the final edit. Ultimately, it would not be beneficial to me or my aims and aspirations for this play if, for the sake of resisting editing out that extraneous ten pages that were so witty and so informative, audiences then started to fidget and look at their watches because it was too long for a one-acter.
The five days of rehearsal – quite generous for a 'script-in-hand' show, apparently – was a hugely satisfying collaborative effort between myself, Kinny Gardner, Keith Drinkel and Thea Bennett. I have heard horror stories of playwrights being made to feel that any contribution they might make to the rehearsal process was unwelcome and unwarranted, but this was quite the opposite. Cast and director worked so hard and with such dedication and enthusiasm that I was quite overwhelmed, and we were delighted mid-week to welcome some members of Blueprint 22, including Northbrook College student Chloe Muncey who, in addition to filming the Brighton show, filmed some of the rehearsals. She also interviewed me on film about why I'd written the play and what my hopes for it were. Chloe also chose to make the play the focus of Time After Time, a Blueprint 22 LGBTU film history project which constitutes part of her course work.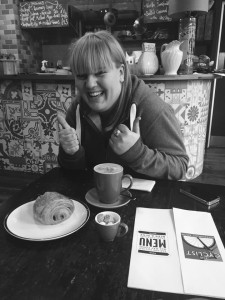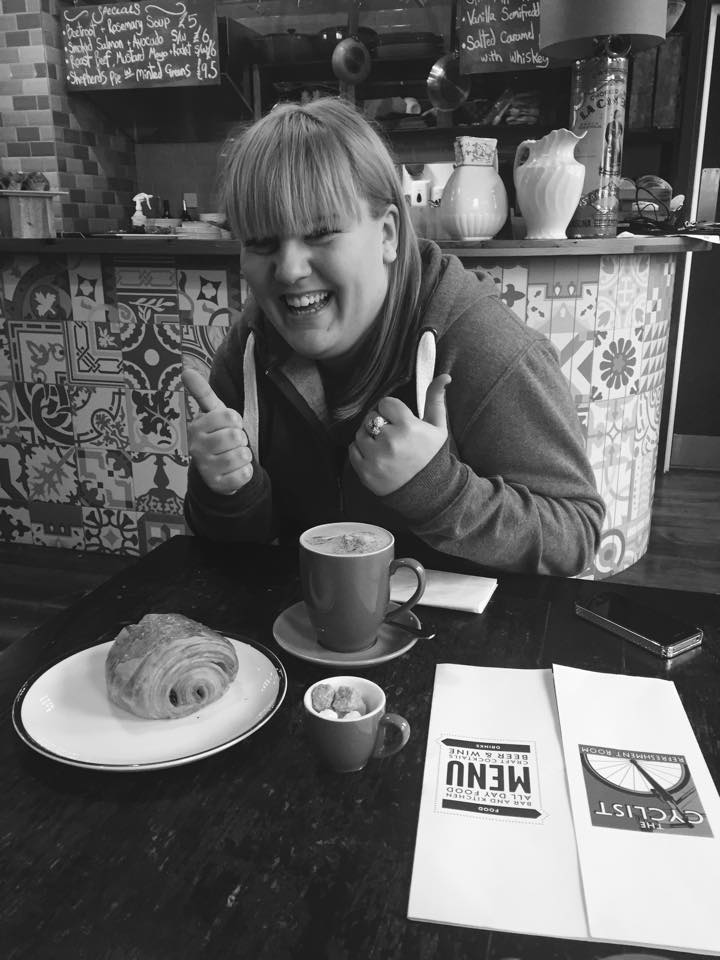 Both 'script-in-hand' shows attracted near-capacity invited audiences, including representatives from production companies, theatre venues and the media − most importantly, members of Blueprint 22 for whom theatre is not a usual part of their cultural experiences.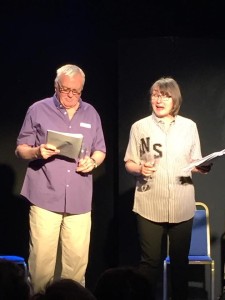 The play was greeted with enthusiastic applause; intelligent questions in the Q&A sessions and feedback in person, via email and a SurveyMonkey questionnaire.
This feedback included the following comments:
'I learnt a lot from the play and they [the actors] worked really well together!'

'I really enjoyed the reading yesterday, which was extremely informative as well as great entertainment.'

'All in all, an excellent play – it was a most enjoyable experience.'

'Your writing is sharp and detailed, and you have brought two characters back from the grave is a colourful and vibrant way.  I think what you said about showing a relationship between a gay man and gay woman is very pertinent and right – we NEVER see that relationship written in a loving way.'

'Beautifully written. I thought it was a riveting combination of humour and pathos – and the mannered exchanges were rather reminiscent of Noel Coward, which was very appropriate. It really deserves a proper production.'

'Entertaining, fills in a gap in our historical knowledge, witty, very much taken from real life and full of surprises.'

'…intelligent, witty, information-packed, a moment in time recreated for today's audience.'

'What came across strongly was how society viewed gay men and lesbians not that long ago, within my lifetime.'

'…, the material includes so much well phrased dialogue.'

'I really enjoyed it and am so excited to see it taking shape in such a witty and entertaining form.'

'Thanks so much for bringing these wonderful characters to life.'

'We found it very informative & entertaining, and congratulate you & your team for getting it to this stage – it's a fascinating insight into these two personalities & their period.' Maureen Chadwick and Kath Gotts, Big Broad Productions.
The film of the Brighton performance, made by Chloe Muncey of Blueprint 22, can now be seen in four parts on YouTube. It features a brief interview with me at the beginning, some footage from the rehearsals and the post-performance audience Q&A:
So – how does this voyage end? That remains to be seen.
In so far as I succeeded in achieving everything I set out to do in my ACE application – and then some – it's been a triumph. Many months ago, I was told by my ACE field officer that 'it's OK for a funded project to fail'. My response to that then – as now – is 'I don't do failure…' I have written my first stage play for others to perform, and it has been tried and tested in front of two diverse audiences who, in all certainty, had no idea what to expect – and, I think, were pleasantly surprised.
One production company and a producing venue have already asked to see the script; a renowned theatre director has asked to see the DVD and another producing venue which has an ongoing script submission scheme will also be sent a copy of the script. It has also been entered for a major competition for new plays.
In theatre, much success is down to having the right product at the right time – so we'll have to wait and see if Not Wanted On Voyage, having completed the first leg of its 'journey', will be taken on board by others.
Whatever its final destination, this play has been for me, and other 'passengers', a journey of immense discovery, pleasure and satisfaction. I thank them all and wish my play 'bon voyage' for the future.
---
November 17 2015:
ARTS COUNCIL FUNDS NEW PLAY BY ROSE COLLIS
Writer and performer Rose Collis has been awarded funding from Grants for the Arts, supported by the Arts Council England, to create a new stage play about 50s media stars Nancy Spain and Gilbert Harding.
The Research & Development project will culminate in two 'script-in-hand' performances in late February 2015 at in Brighton and London, to which theatre industry professionals and other interested groups and individuals will be invited. Collaborative partners for the project include Shelley Silas, Kinny Gardner, Thea Bennett, Keith Drinkel, the Marlborough Theatre (Brighton), Bread and Roses Theatre (London) and Sussex young people's organisation, Blueprint 22.
Rose Collis, author of Spain's biography A Trouser-Wearing Character, says 'In the 1950s, Gilbert Harding − a guilt-ridden and unhappy gay man − was the most famous personality on British television who loathed his fame. Nancy Spain was the most famous female all-media personality, at ease with her sexuality and her celebrity status. I've always thought their unlikely friendship – including the long-running and hilarious rumours that they might marry − was a subject worthy of dramatisation.
'I'm enormously grateful to the Arts Council for this grant – the first public funding I've ever received – and also to the Peggy Ramsay Foundation, which contributed vital match-funding. I am also thrilled to be collaborating with project partners of the highest calibre who will make valuable contributions to the creative process and the outcomes.'