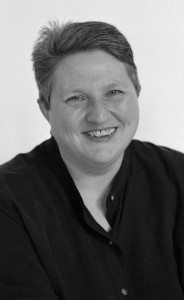 Rose Collis is a nationally and internationally acclaimed performer, playwright, author, singer, historian, producer, workshop leader and journalist. Her work spans four decades and includes biography, stage plays, social and cultural histories, journalism, short fiction, website content, exhibitions, apps, workshops, talks and educational tours.
Her critically-acclaimed books include Death and the City , The New Encyclopaedia of Brighton, 'This Effing Lady', Colonel Barker's Monstrous Regiment; A Trouser-Wearing Character; and Portraits To The Wall.
Her diverse talks and lectures have included sell-out events at the Royal National Theatre, the National Film Theatre, the National Portrait Gallery, the V&A, Edinburgh International Book Festival, Brighton Festival, London Metropolitan Archives, Birmingham University, Brighton University, Charleston Trust, Wigtown Book Festival,  Bishopsgate Institute, Polari South Bank and libraries throughout London, East Sussex and West Sussex.
From 1985 until 2010, her features and reviews appeared in more than 30 publications, including The Independent, The Times, TV Times, The Bookseller, Time Out, City Limits, Diva, Gay Times and Tribune.
In 2012, she created 'Trouser-Wearing Characters', the first solo musical cabaret show written and performed by a female author. The show has been performed at theatres and festivals throughout the UK and, in spring 2013, completed a triumphant five-week tour of four major arts festivals in New Zealand and Australia.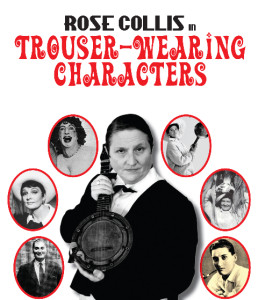 PRAISE FOR ROSE COLLIS AND HER WORK:
'Collis treads a careful line between sensation and sentiment. She finds strength, humour and glamour in her subjects.'

Kathryn Hughes, Daily Telegraph

'She is a biographer to watch.'

Jonathan Cecil, The Spectator

'Rose Collis is known for her rigorous and celebratory treatment of trouser subjects: it ensures that her work does not degenerate into the literary equivalent of a night of after-show anecdote-tennis.'

Matthew Sweet, Independent on Sunday

'That indeed is the Collis way: loads of info delivered with charming informality and with plenty of anecdotal chuckles along the way.'

Andrew Kay, The Latest

'Rose Collis…a style not unlike that of "grumpy old women" but more interesting and funnier.'

Planet London.com'If Brighton is representative of a particular attitude, a particular atmosphere, then Rose gets close to evoking exactly what this is. It's good to see a piece of Fringe Theatre that is so strongly linked to place, but that could also go far beyond it. Rose is a great ambassador for the city. I have no doubt she could expand the show with more material, take questions from the audience, or include other cabaret acts. She could easily be snapped up by television, I feel, as there has been a recent trend towards shows imparting serious subjects in an entertaining and accessible way. Collis certainly fits this bill.'

Lucy Nordberg, Fringe Review

'She has a charming voice and a delightful delivery…the show has just about all anyone can ask: interesting content, great energy and music that makes you beg for more.'Lynn Ruth Miller

'Wotever World have had the pleasure to collaborate and work with Rose Collis twice now and, at both events, she and her unique style have gone down a storm. Trouser Wearing Characters is a piece of much needed LGBT history, and with her wit and charm Rose makes us sip up every word and tune. We are specially in awe of the Music Hall numbers on banjolele! Perfect and so funny! We are looking forward to many more events where we have Rose with us on stage.'

Ingo Cando, Creative Producer, Wotever World

'Rose Collis brought much humour and charm to Polari, where her musical gifts went down extremely well with our audience.'

Paul Burston, Curator, Polari at the Southbank Centre, London

'Rose Collis's show Trouser Wearing Characters went down a storm at the Wigtown Book Festival 2012.  That's quite a coup for an English artiste in a Scottish environment.  Cheers and laughter and tears — all of them inspired by Rose's performance.  People loved it — the history, the entertainment, the presentation — which was professional, focussed and sensitive.'

Gerrie Douglas-Scott, ReadingLasses, Wigtown Booktown Fringe Festival

'Pink Fringe and Marlborough Theatre supported the development and presented the initial run of Trouser-Wearing Characters. We were delighted with the response to the show and Rose's ability to illuminate minority histories in an engaging way that appeals to a broad range of audiences. She has a distinctive artistic voice.'

David Sheppeard, Pink Fringe/Marlborough Theatre

'West Sussex Libraries had the great pleasure of working with Rose Collis during LGBT History Month 2012. It was an excellent event, with each section very well chosen for the evening and for the audience in mind. Rose had a great rapport with her audience and was very relaxed about talking informally to people afterwards, which added to the atmosphere. It was a really enjoyable event to be involved with.'

Mike Morten, Community Librarian, West Sussex Libraries

'Talking to her at the close of another long day researching her latest biography, Rose enthuses passionately about her deceased subjects as though they were close friends – lovers almost.'

Cliff James, one80

'She has a love for her craft and is able to communicate that to anyone wanting to listen or read.'

G-Scene

'She's something of a human encyclopaedia, Rose Collis…as curious as a child, a trait that's led to her writing books on a wide range of esoteric subjects. Collis is a character in herself; in the future, surely someone will be singing a song about her.'

Nione Meakin, The Argus

'If you hear of a workshop near you that is run by Rose, then I recommend that you book early and go, you won't regret it. In the meantime, you can always dip into her books; like Rose herself, they sound absolutely fascinating.'

Laura Wilkinson, hagsharlotsandheroines.com

'Rose Collis…one of the busiest people you could ever hope to meet…a local heroine herself.'

Brighton and Hove Life

'She talked movingly about her subjects as well as about the process of biographical writing. A very enjoyable session and an author to look out for.'

Chartered Institute of Library and Information Professionals

Good literary events expand our horizons and encourage us to pick up books and read authors we have never considered before. That's exactly what happened to me at the Clifton Montpelier Powis Festival on Saturday (7 July). Writer, alternative historian and Brighton resident Rose Collis, presented a fascinating performance about Charles Dickens and his many connections to Brighton and Hove. With the help of two actors, her entertaining and semi-dramatised show 'What the Dickens?' related snippets of the great author's many visits to the seaside resort in the mid-1800s.

Brighton and Hove Free Press