Written and performed by Rose Collis, Trouser-Wearing Characters, is the first original, one-woman cabaret-style musical show created and performed by a British author, and signalled her return to the professional stage after an absence of 25 years, during which she became an established journalist, author and historian.
This original entertainment is a unique mixture of music, history and comedy. It combines stories, vignettes and songs (evergreens and originals) about some of her favourite, eclectic 'trouser-wearing characters', from Nancy Spain to Colonel Barker, Dougie Byng to the 'f**king lady' herself, Coral Browne, with cameo 'appearances' by the likes of Noel Coward, Marlene Dietrich and Vincent Price.
Trouser-Wearing Characters is a one-woman show, with a cast of many characters — including Rose's veteran banjoleles, 'Alvin' and 'Bud'. In 2012, she said: 'Trouser-Wearing Characters brings together everything I've done in my careers, from singing and writing original songs, to researching and relating stories of fascinating and quirky figures. I think the show has something for everyone, whether they enjoy showbiz-type anecdotes, real-life scandals or even just songs performed with banjoleles! So, I hope audiences will not only think, "I really enjoyed that", but also "I never knew that!"'
The original production was directed by Matt Thompson; the ACE-funded 2016 version directed by Kinny Gardner B.E.M, B.C.A.a
LISTEN TO TWO SONGS FROM THE SHOW ON YOUTUBE:
Masculine Women, Feminine Men : Opening song of 'Trouser-Wearing Characters', one-woman musical cabaret show by Rose Collis. Lyrics/music Edgar Leslie/James V Monaco (1926), additional new lyrics by Rose Collis (2012), arrangement Rose Collis (2012) Recorded by Tod Higginson, July 2018. Vocals/banjolele: Rose Collis
This version is also included on the section dedicated to this timeless song on JD Doyle's excellent website: https://www.queermusicheritage.com/MWFM.html
It's The Best I Can Do For The Money: Song about entertainment legend Douglas Byng, featured in the one-woman musical cabaret show, 'Trouser-Wearing Characters', written and performed by Rose Collis. Lyrics and music, Rose Collis (c) 2012. Vocals/banjolele: Rose Collis
Extracts from the show, and an interview with Rose Collis, feature in the Brighton episode of Urban Secrets With Alan Cumming, aired regularly on Sky Documentaries:

The show made its world premiere at the Brighton Fringe 2012 and was greeted with immediate critical and audience acclaim:

'OUTSTANDING SHOW'

'

Rose Collis has the air of someone moving to the next level: all the elements of her previous experience researching, writing and performing unite during this show in a natural and self-assured way. This show is crammed full of facts and unexpected connections. It's more than a lecture, however: in a theatrical exploration of colourful characters who defied expectations in order to reinvent themselves, she sings and presents the material with enough theatricality to bring her subjects to life.'

Lucy Nordberg, Fringe Review

Drawing the audience in instantly with skilled story telling, cheeky songs, gender exploration and a comparison of attitudes of people then and now (striking similarities will startle), Rose weaves secrets, tidbits of biographical information & audience banter, and plays her banjolele Bud as well. Rose brings gems and nuggets of biographical details compellingly recounted through humour, song and wit…spiced with witty asides, knowing looks and a bright selection of songs on the banjolele… Collis brought them to life colourfully and sympathetically.

The Latest

'…Collis's genuine affection for her cross-dressing eccentrics is the heart of this show. That makes it work, and creates something quirky and uplifting. The themes of the show stayed with me as I left the Marlborough.'

Mathilda Gregory, Fringe Guru

'Rose Collis takes us on a biographical tour performance of four 'trouser wearing characters'.
Early in 2013, Trouser-Wearing Characters had a hugely successful five-week tour of New Zealand (produced by Tomboi Productions) and Australia, appearing at Auckland Fringe, NZWellington Fringe, Sydney Mardi Gras and Adelaide Fringe — the second biggest arts festival in the world.

Again, the show proved a hit with critics and audiences alike:
'Collis has excelled in creating something that has moved beyond any general label. Although the show has a distinctly queer theme, the way in which Collis skilfully illuminates the lives of her trouser-wearing characters means that they each shine simply as interesting and outstanding human beings irrespective of any gender judgements – which was arguably what each of them was trying to achieve in life anyway. Trouser-Wearing Characters is a highly-entertaining and personal piece of cabaret theatre that will be appreciated by a broad audience.'
Theatre Review New Zealand
A one-woman show in which Rose Collis tells us the stories of four 'masculine women and feminine men'; real characters from a not-too-distant past who broke away from gender stereotypes. Collis knows her subjects well, having written books about them, and her enthusiasm for them makes the show flow easily. The humour and subject matter is delivered with admirable subtlety.  The fact that some of the characters are fairly contemporary (such as the hilarious piece written for, but not performed at, Carole Browne's funeral by Barry Humphries is a highlight) means that this is not simply a slice of vaudeville nostalgia.
Final Word: Delightful.     
Rip It Up, Adelaide

'Can an historian ever be entertaining? When the historian is Rose Collis and the subject is delightfully decadent and debauched, the answer is a big 'over the top' YES!'
Adelaide Theatre Guide

'It's a pleasure to spend an hour with Rose Collis and her tales of masculine women and feminine men, a look at the gay British sub culture of the last century, focussed on Brighton.'
Adelaide Advertiser
In the last five years, the show has appeared at many festivals and venues throughout the UK, including:
Royal  and Derngate, Northampton

Windmill Theatre, Littlehampton Arts Festival

Wigtown Book Festival Fringe (Scotland)

Norwich Pride Arts Festival

Lass O/Gowrie, Manchester


Hot August Fringe @ The RVT

L-Fest, Uttoxeter


Collier Wood Arts Festival

Tom Thumb Theatre (Margate)

Rainbow Hamlets Arts Festival (London)

Purple Playhouse, Brighton Pride 2017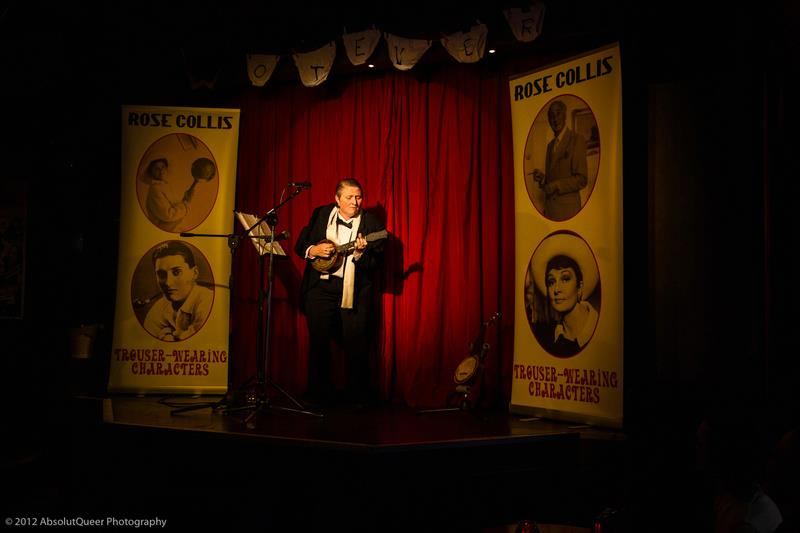 'Trouser-Wearing Characters' Runner-Up,
'Best Theatre Show' in Ultimate Planet 2014 Awards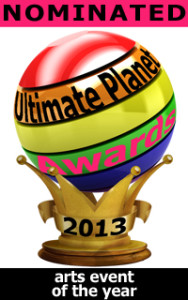 In February 2016, Arts Council England funded the show's first UK regional tour for LGBT History Month 2016. The show was performed in public libraries in Ipswich, Plymouth, Exeter, Taunton, Reading, Worcester, Shrewsbury, Sheffield, Todmorden and Newcastle.
The tour took place during LGBT History Month 2016, when the show was performed at ten different regional libraries, starting at Ipswich Central Library on February 9, and ending at Newcastle City Library on March 2.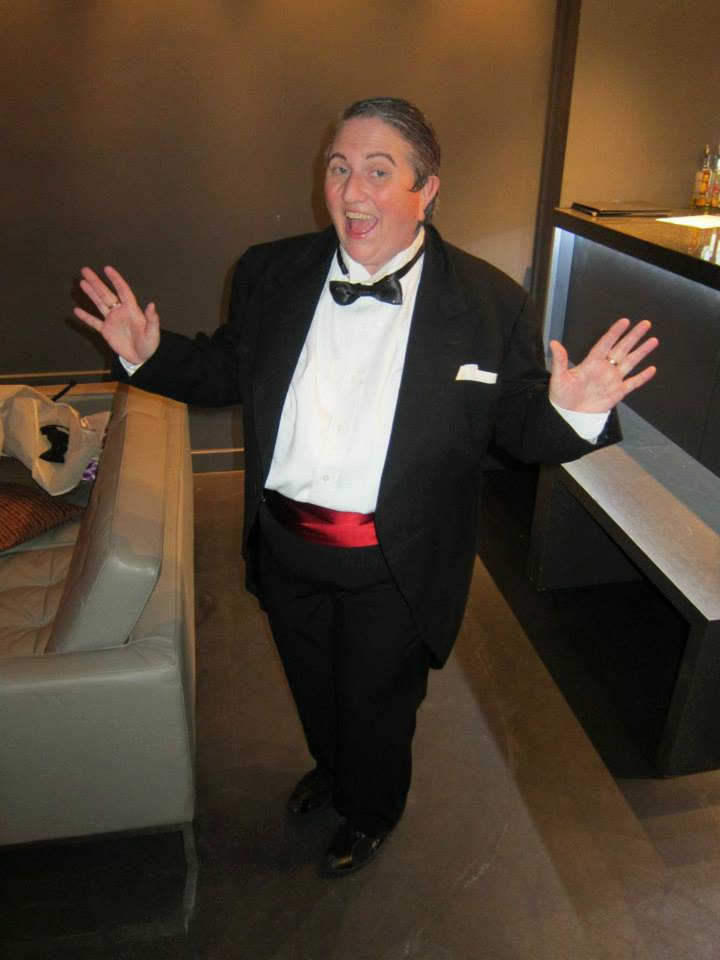 Its overall audience feedback rating was 4.5 out of five stars.
Comments included:
Excellent entertainment — never stopped smiling at the wit and intelligence
Smooth, slick and fascinating; an excellent show and a wonderful example of the evolution of the library. I'd love to see more by Rose Collis — bring her back!
Entertaining, educational and fun.
Absolutely brilliant — really entertaining and informative.
Loved the mixture of music and storytelling.
Interesting and fun stories told by an interesting and fun character.
A lovely mixture of history and music; well-researched and very entertaining.
Great pace, wit and pathos in balanced doses.
Novel, engaging and delightfully entertaining.
Original – sort of intellectual stand-up.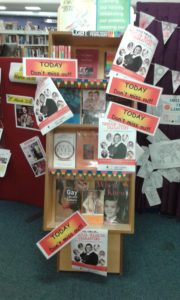 The show was a tremendous success with the public and staff alike. Thirty-nine per cent of total audiences completed feedback forms;  54%  rated the event as '5-star'; the overall star rating was 4.5 star.
When asked 'Would you like to see more performances in this library?', 100% of respondents answered 'Yes'. Asked 'Would you like to see other theatre performances by Rose Collis?', 100% of respondents answered 'Yes'.
All the partner library services expressed a keen interest in hosting future performances shows by Rose Collis.
Trouser-Wearing Characters

still tours: for booking and tech details, contact [email protected]
---