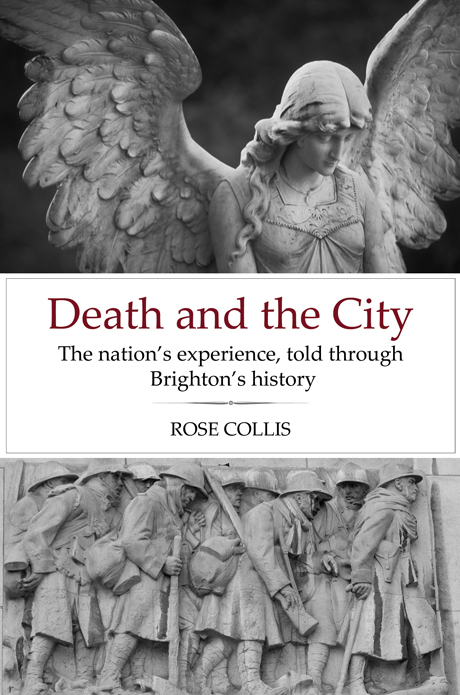 In this lively and entertaining book – her twelfth – Rose Collis explores Brighton as a perfect microcosm of the nation's ultimate shared experience: death. This small coastal city teems with idiosyncrasies and uncanny landmarks that have had a profound effect on our collective history.
Through extensive research, Collis explains why this former fishing village became so significant in our approach to death, attracting a weird and wonderful array of visitors and residents, whose stories illuminate and enrich our understanding of the final human journey.
From the Introduction:
'In his diary, the writer JR Ackerley noted down a quote from Sophocles's Antigone:
'We have only a little time to please the living, but all eternity to love the dead'.
He died the next day.
That, to me, sums up what death brings: sadness, tragedy, irony and, occasionally, gallows humour. There are only two things certain in our lives, and which we all have in common: we are born, and we die.
A few years ago, it occurred to me that while I had only been to four weddings, I had been to a disproportionately high number of funerals and memorials. Family members; friends; colleagues. A child's death, suicides, men to AIDs, women to cancers. I've written obituaries of those known to me personally, and others only admired from afar. I've organised funerals, composed and delivered eulogies and — even during the completion of this book — had another first: singing and playing banjolele at a funeral.
As American academic David W Moller observed, 'Death illuminates life and transforms life like no other experience.' This book, then, is a subjective view of all the different facets of the ultimate shared experience, and how it has illuminated and transformed not only my life but, ergo, millions of others.
Over the years, my research has borne out what I had long suspected: that Brighton is a perfect microcosm of the British national experience of death, in all its forms. Outside of the major cities, I have found nowhere in the UK that so accurately and poignantly epitomises it, historically and socially. By virtue of coincidence and chance, it teems with innumerable idiosyncrasies and uncanny landmarks that have had a profound effect on both the national consciousness and history.
This book covers all the main aspects of death: funerals in Grave Undertakings, and cemeteries and suchlike in Final Resting Places. Then, chapters on causes of death: Accidents Will Happen, The Public Health (everything from bugs to binge-drinking), By Their Own Hand (suicide), Murder Most Foul and Suffer Little Children (child deaths). The subject of war deaths, I've separated into two: WWI gets its own chapter, for the reasons explained therein. The last chapter is Post-Mortem, dealing with all aspects of what happens once someone has died, including wills and obituaries.'
Death and the City: The nation's experience, told through Brighton's history published by Hanover Press.
Available in paperback and Kindle editions: visit http://deathandthecity.com/how-to-buy/
What readers are saying on Amazon:
'Rose has a unique way of blending deep and wide research with a "common touch" which make her books eminently readable. Although Brighton readers will get a particular frisson from recognising familiar places and people, the facts and anecdotes that extrapolate our local experience onto the national and global canvas make this book a good read wherever the reader is located.'
'Attracted by the title I have been fascinated and hugely entertained by this immensely enjoyable book. Although I do not live in Brighton I know it pretty well and even if I didn't it has so much information that is of great interest. Written with humour and knowledge it has been so well researched that it has left me making notes of other subjects that I want to delve into after reading it. Always a good sign. I shall definitely be looking at the author's back catalogue as her style of writing has great appeal.'
IN THE MEDIA:
The Argus: Death and the City: http://www.theargus.co.uk/news/nostalgia/past_present/10875843.Dead_famous/
'Collis knows a lot about the city and has a good sense of humour – essential when you are dealing with death.'
Robert Nemeth, The Latest: http://thelatest.co.uk/brighton/2014/03/18/robert-nemeth-death-and-the-city/
'Rose puts the flesh on the bones of these stories and more in Death and the City. Read if you dare.'
http://issuu.com/brighton-and-hove-independent/docs/112-25-october-2013
http://www.thebestof.co.uk/local/brighton-and-hove/community-hub/blog/view/why-do-we-have-halloween
http://www.thebestof.co.uk/local/brighton-and-hove/community-hub/blog/view/how-did-the-great-war-affect-brighton
http://fabrica.org.uk/fabricas-co-director-shares-interesting-trivia/
ROSE COLLIS AND DEATH IN THE CITY SHORTLISTED BY GLADSTONE LIBRARY
'…creative non-fiction that in the eyes of the shortlisters best represent some of the most creative writing in the world today.'
I'm very proud and excited to have made the shortlist for such a prestigious programme – especially given the huge number of authors that apply, from all over the world.
Gladstone's Library Announces Its Writers in Residence 2016 Shortlist
Gladstone's Library has today revealed the 10 books shortlisted for the Library's successful Writer in Residence programme. The shortlist is made up of novels, poetry and creative non-fiction that in the eyes of the shortlisters best represent some of the most creative writing in the world today.
Four authors will win a month's residency at Gladstone's Library, a creative community that is open to the public and is based in the world's only residential library. Previous winners include: Naomi Alderman (The Liars' Gospel), Stella Duffy (Theodora, The Purple Shroud), Vanessa Gebbie (The Coward's Tale), Melissa Harrison (Clay, At Hawthorn Time) Peter Jukes, Lesley McDowell (Unfashioned Creatures), Peter Moore (Damn His Blood, The Weather Experiment) and Sarah Perry (After Me Comes the Flood). Previous winning poets include Katrina Naomi, (The Girl With the Cactus Handshake, Hooligans), Judy Brown (Loudness), Pascale Petit (Fauverie).
The submissions are drawn from a pool of entries all around the world. To qualify for consideration, all applicants have to submit a book published in the last three years and a short piece on liberal values.
The ten shortlisted titles are:
Susan Barker, The Incarnations (Doubleday)
Sue Hubbard, The Forgetting and Remembering of Air (Salt)
Rose Collis, Death in the City (Hanover Press)
Rebecca Farmer, Not Really (smith/doorstop)
Alyson Hallett, Suddenly Everything (Poetry Salzburg)
Jason Hewitt, The Dynamite Room (Simon & Schuster)
Tung-Hui Hu, Greenhouses, Lighthouses (Copper Canyon Press)
Amy Liptrot, The Outrun (Canongate)
Katharine Norbury, The Fish Ladder (Bloomsbury Circus)
Natasha Pulley, The Watchmaker of Filigree Street (Bloomsbury Circus)
The Warden of Gladstone's Library, Peter Francis, commented that as in previous years, the list represents 'a wonderful blend of established, newly published and as-yet unpublished writers. Our shortlist seems to develop organically, to include long- and short-form fiction, poetry, biography and creative non-fiction. We are delighted to be able to announce such a strong shortlist and we're sure that those of us who are judging have their work cut out'.
The judging panel consists of Strategy Director of Rufus Leonard and Trustee of Gladstone's Library Freddie Baveystock; novelist and Director of the National Academy of Writing Richard Beard; Peter Francis, Warden of Gladstone's Library; novelist and academic Francesca Haig; novelist Sarah Perry; Director of Collections and academic Louisa Yates. Judging takes place on Monday 10th August and the winners will be announced on 12th October.
---