LGBT History Month Launch: November 14, British Library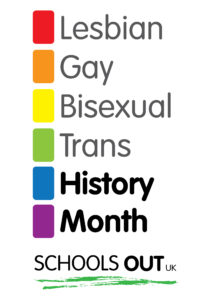 Rose Collis will be one of the keynote speakers at the launch of LGBT History Month 2019. The theme will be Peace, Reconciliation and Activism. The evening will begin with networking, drinks, snacks and stalls, followed by speakers for LGBT History Month from 6.30pm. This will be followed by a panel discussion and Q&A session from Queer Beyond London, supported by English Heritage's Pride of Place.
Rose will be giving a brief introductory speech about the plans for her ambitious new mixed media lesbian history/heritage project, drawing on both her experiences as a lesbian writer, performer and activist for forty years, and her extensive and unique archive curated during the last four decades (see Bishopsgate Study Day details below).
November 14, 5.30pm, The British Library, 96 Euston Road, London NW1 2DB
You can come along to this event for free but you will need to register here; https://tinyurl.com/y9kcg67l
'FORTY YEARS OUT' – STUDY DAY, BISHOPSGATE INSTITUTE, NOVEMBER 17



Rose Collis has been an out and proud lesbian writer, performer, historian and activist for four decades. During that time, she has witnessed, participated in and chronicled many key events in LGBTQ history, but especially those affecting and emanating from the lesbian community. This history includes

Gay's the Word's battle

with HM Customs, the roles played by

Oval House

and

The Drill Hall

in performance/activism, and the diverse responses to the

AIDS crisis

and

Section 28

– plus her four years as the first lesbian co-editor of the influential 'Out in the City' section of City Limits magazine.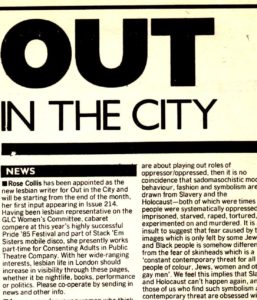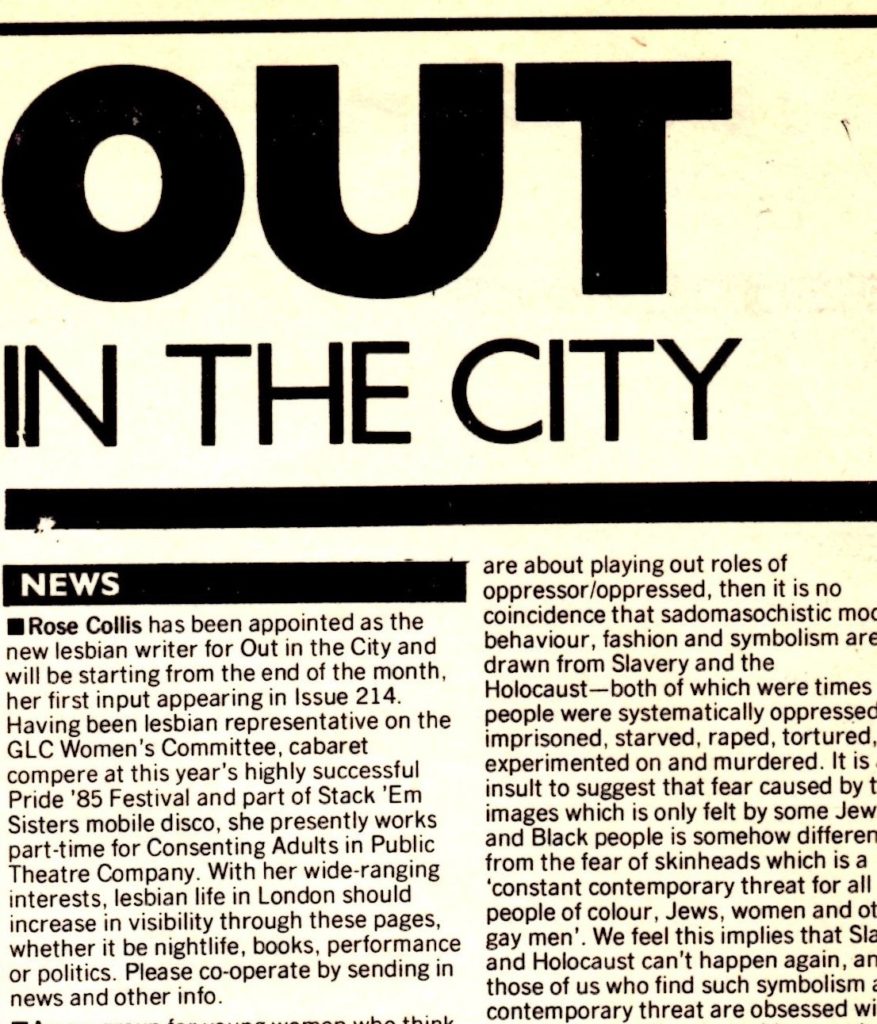 Join her for this rare opportunity to explore forty years of history, featuring cuttings, photos, objects and ephemera from her private archive that

complements a number of Bishopsgate Institute holdings.
Rose explains:
'2018 marks the 40th year since I first started coming out to people (a lifelong process, as I have discovered) and, in 2019, it will be 40 years since I went on my first Gay Pride March (sic) in London. I'd been thinking about devising some sort of multi-media project that would tie-in with those landmark dates and allow me to share some of the remarkable archive I've collected during those four decades.

So I was delighte

d when the call-out came from Bishopsgate Institute for tutors to host LGBTQ Study Days, and I was asked to do one of them. Devising and presenting this event affords me a great opportunity to offer students a 'taster' of my archive and my experiences, and preparing for it has also helped me in the early development of a much bigger project for 2019  that I'm hoping to get funding for.


'This is not going to be a dry and dusty academic study day, because I don't do "dry and dusty" academic. Instead, it will feature a veritable smorgasbord of historical material, including some rare recordings of lesbian and gay songs from the 70s and 80s, video clips, a selection of 70s and 80s publications from my archive to browse through, a little artefact-based quiz — and, of course, many, many images of material from my archive, accompanied by my first-hand anecdotes. What's not to like?'

Saturday November 17, 10am-4pm
Bishopsgate Institute, 230 Bishopsgate, London EC2M 4QH
£62/£47 concs. Max number of students: 16
All welcome.
To book, visit https://tinyurl.com/ybjay2s4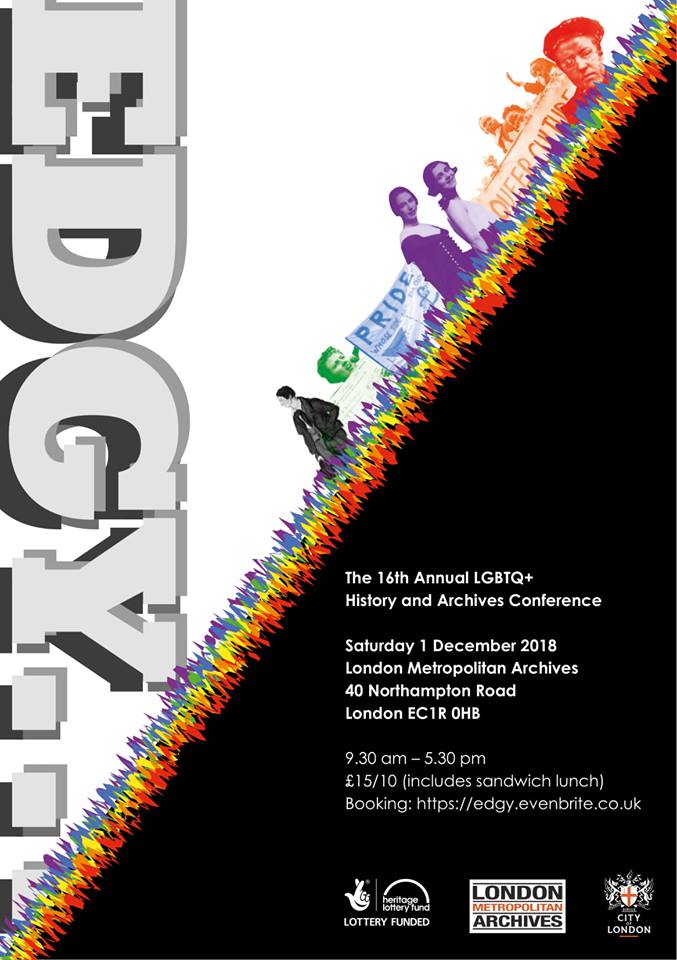 Rose Collis will be a keynote speaker at Edgy: The 16th LGBTQ+ History and Archives Conference at London Metropolitan Archives on December 1.
This LGBTQ+ History conference explores ideas of 'Outsider History'. The margins can be a powerful place rather than a place of exclusion. But what happens when people get excluded from mainstream memory through lack of resources or time? What happens when Outsider History strives to become part of the centre? How does the history get defined? Are aspects of history obscured in an effort to make things palatable and acceptable?
Rose Collis will be unveiling Forty Years Out: An Outsider Lesbian's Inside Stories, a brand new presentation with visuals and music, followed by Q&A. This is a rare opportunity to explore forty years of history, featuring first-hand anecdotes, cuttings, photos, objects and ephemera from Rose's substantial private archive — a 'taster' for a major multi-media project that will be produced in 2019 to mark forty years since her first Gay Pride march. Subject to funding, this will feature a new solo stage show, an online/physical exhibition and a variety of public engagement events in London and throughout the UK.
Tickets are going fast, so book now to avoid disappointment: https://tinyurl.com/ycmymvzh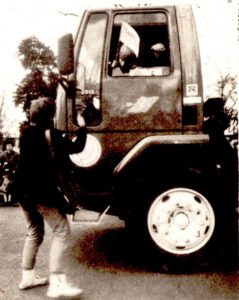 ---